The Mt. Rainbow Community Room
Community Gathering Space
Meetings, Dinners, Celebrations, Seminars
The Mt. Rainbow Community Room is located on the second floor of the new Rainbow Playschool located at the base of Mt.  Tom.  This Community Room was established as a gathering space for meetings, dinners, celebrations, seminars both kids and multi age friendly.  Parking is located on the fenced in playground side of the building where there are 19 spaces available for the room for rent on nights and weekends.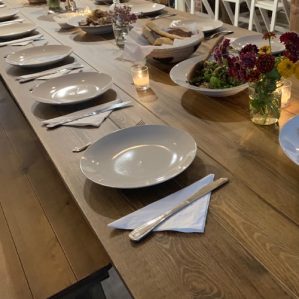 The room has a capacity for 49! Both kids & multi-age friendly.
As you enter through the main fenced in area of the school, you travel through the mud room where you hang your coats and head straight up the stairs opposite the main entrance to the community room.
The room has a capacity for 49 on our beautiful pine tables and benches along with 8 folding chairs. Just off the room is an ADA accessible rest room (parking is only available in non-snow months currently for ADA).  The pine tables and benches are foldable for you to organize the room in different fashions.
Our small a vista kitchen sports an electric glass top stove with muli-level oven compartments, a double bay sink with spraying faucet, a microwave, coffee pot, hot water pot, dishwasher and a large refrigerator with a bottom freezer.  The cabinets and shelves are stocked with beige dining plates, large family style wide rimmed serving bowls, salad plates, dessert plates, non-matching ice cream sundae dishes, red cloth napkins, silverware, glassware for—red, white, champagne, high ball, water/juice glasses, carafes and flower vases/jars. Kids dishware for birthday parties: glasses, plates, silverware.
RENTAL RATES
 All current families of Rainbow & alumni 
are offered a 20% discount on room rates. 
2-Hour Class Rate: $75
Includes use of the room plus light dish use, such as a coffee pot and mugs, snacking plates. Please place all items used in the dishwasher and turn on at the end of your use.
4-Hour Daytime Party Rate: $150
Includes use of the room plus dishware.
Full Day/Evening Rate: $300
+ $40 cleaning fee.
Only 1 mile from downtown Woodstock with 19 parking spaces!
We do not mandate that you use any specific caterers.  See our Resources tab for our list of recommendations. You may also prepare your own food on site or bring prepared foods in.
Our space looks very much like a renovated barn with beautiful farm tables and benches with strings of Edison lights for you to use for extra decoration.
We are stocked with dishware not only for a beautiful mulit-course dinner for adults but also stocked with kids dishware for birthday parties and other younger generation celebrations or events. 
Reduces Fundraising Campaigns
Your room rental reduces our need for fundraising campaigns. Most non-profits complete an annual appeal asking for funds to maintain and grow their non-profit.  Since our Board of Directors is predominantly made up of parents of young children attending Rainbow Playschool, we wanted to build in a way to fundraise that also provided a service to the Community.  We outfitted this room to make a gathering easier for you!  Just bring food/beverages and serve!
Weekday Rentals – 4pm – 10pm
Final clean up may continue past 10pm with consideration of neighbors for noise and light pollution.
Weekend Rentals – 8am – 10pm
Weekend Rentals – 8am – 10pm
Please e-mail [email protected] for additional information OR compete and submit the inquiry form below.